Teaching Spanish for us is more than just a job, it's really our passion!
Galapagos Language Academy is located in the town of Puerto Ayora on Santa Cruz Island.
Our goal as an organization is to help the local community and give them the opportunity to learn another language. Here on the island, speaking English, Spanish, German or French opens a lot of doors in terms of employment, and is one of the most sought-after skills from businesses.
The GLA family provides affordable, high-quality classes, to make sure that anyone with the desire to enhance their language skills can do so. We always try to create a welcoming, fun, and friendly environment, making the most of the individuality of each team member and each student to create a unique place to study and work.
Learn languages in the Enchanted Islands!
The teachers here at the academy come from a range of different backgrounds and countries.
Not all are native English speakers, but all have shown a passion for teaching and a desire to help the local community. Our teachers are dedicated, resilient, light-hearted, creative and inspiring.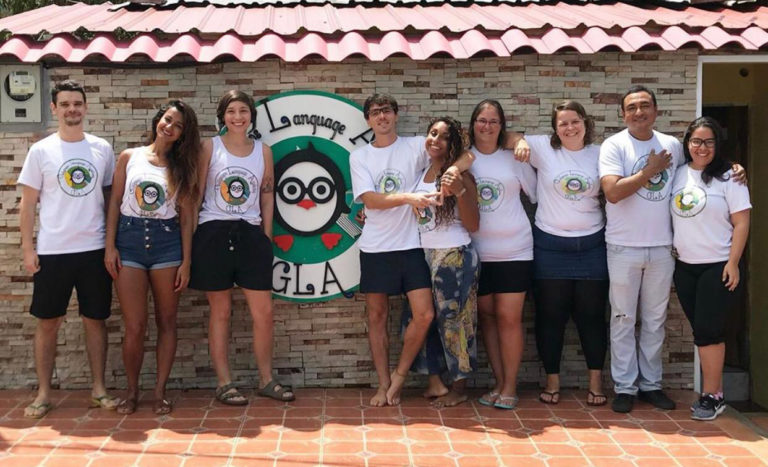 are an important factor for succeeding in your Spanish language study abroad experience.
We have 7 classrooms equipped with computers, tv, and air conditioning units.
Our classrooms are bright and airy spaces that are a pleasure to learn in.
Choose to Travel to Galapagos with TOUCanto
Support the communities you visit, boost their economy and protect their heritage with responsible tourism.
DISCOVER GALAPAGOS AND LEARN SPANISH
Galapagos Language Academy provides the once-in-a-lifetime opportunity to learn Spanish in the Galapagos islands while experiencing unique cultural and touristic activities.